PROMATE 40W Sleek Passive Bass Radiator Speaker with 20W 3D Subwoofer & Dual 10W Stereo Tweeters. Built-in 5200mAh Lithium-ion Battery. Up to 7 Hours Playback Time. Black Colour.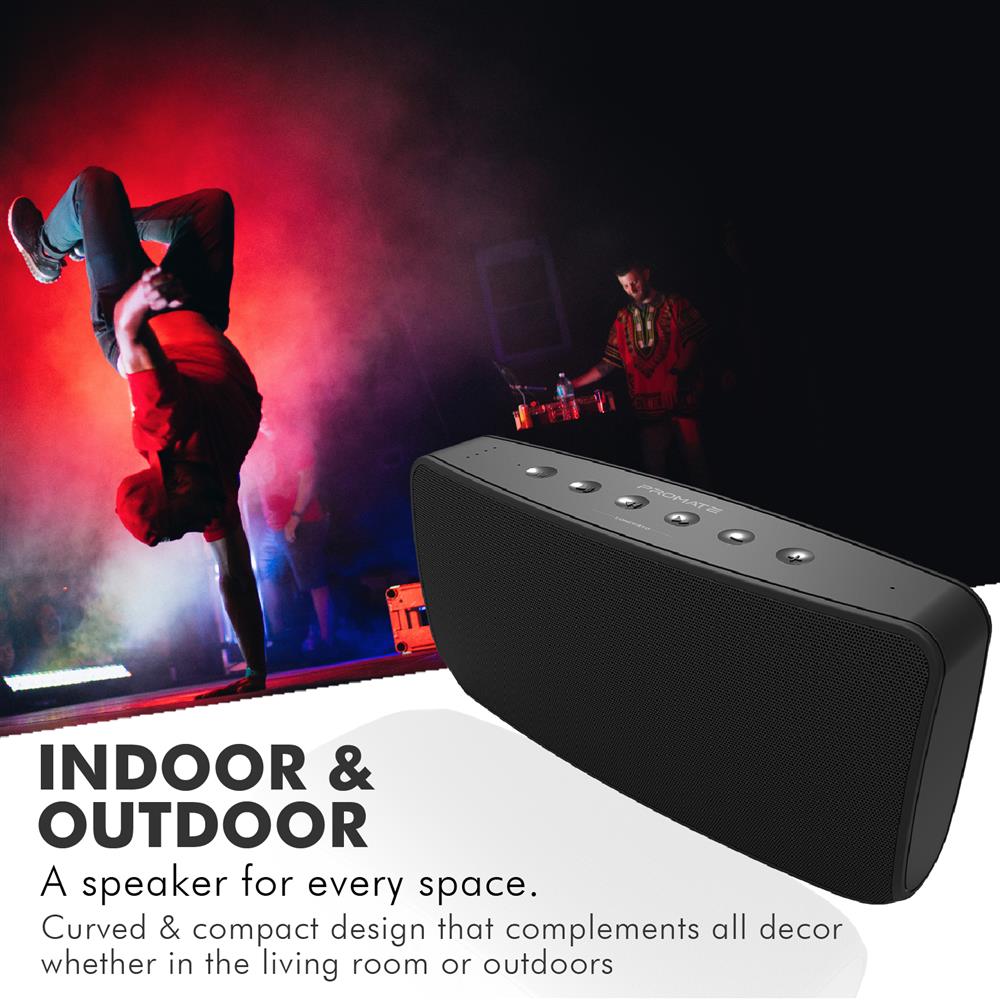 Crafted with high-end materials, the Concerto is a full-featured, portable Bluetooth speaker that delivers powerful audio playback. Packing a punch well beyond its weight and size the subwoofer and radiator ensure an even and balanced dispersion of sound wherever you put it. You can enjoy music playtime of up to 3 hours of playtime thanks to the rechargeable battery. Powerful music anywhere with Concerto.
Features:
Immersive HD sound
Dual bass speaker
Deep bass
5200mAh battery
Built-in microphone
USB input
Bluetooth
AUX jack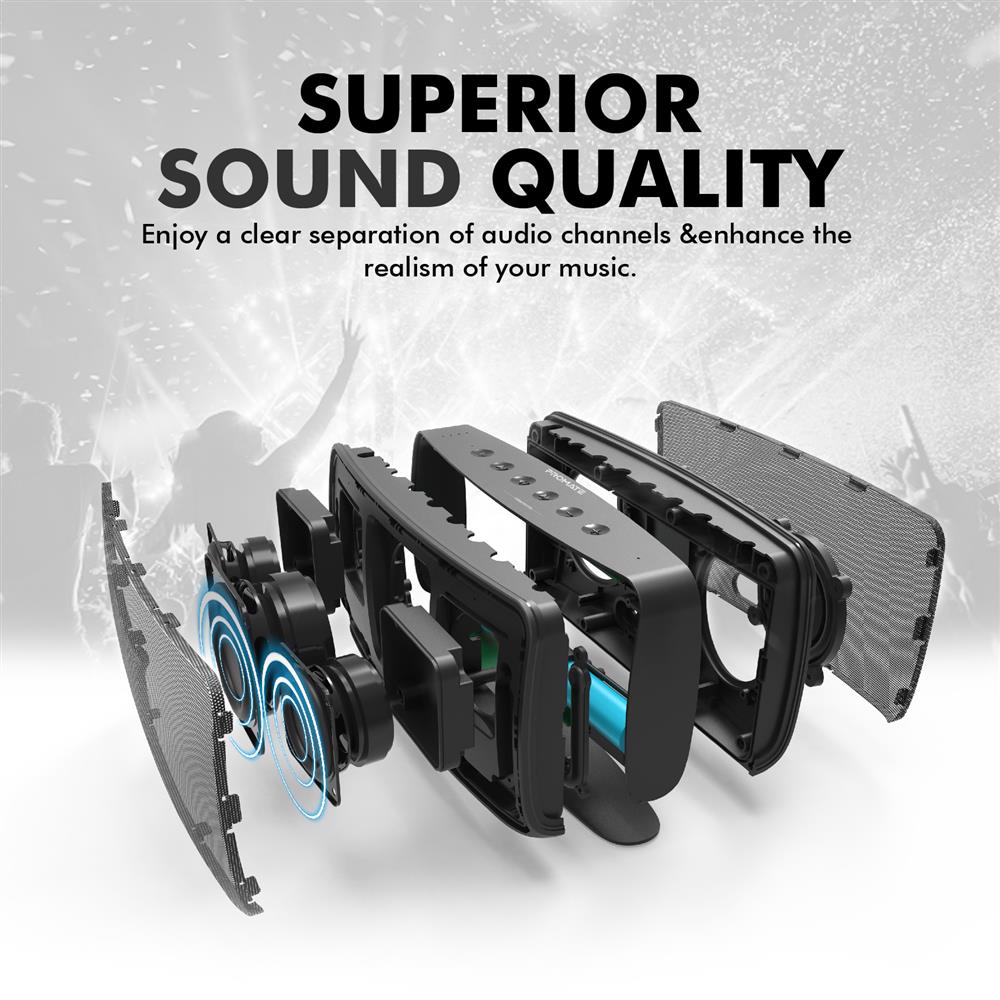 Superior Sound Quality
40W high power output, 3D subwoofers and Dual 10W Stereo tweeters with anti-distortion circuitry. It ensures the close connection of bass, mid-pitch and high-pitch, strong sound quality and full experience of stereo music.
Incredible Drivers and Passive Radiator
20W high-output woofers deliver strong output that will fill any room, while the two Stereo tweeters and silk-dome tweeters hold up the top end ensure all the details stay crisp and clear. The Dual Bass radiator could provide strong bass without distortion even at highest volume.
3D Surround Sound
The Promate Concerto high-powered soundbar speaker unlocks versatile and wireless music playback capability. The 40W system has 3 speakers that generate vivid 3D sound including 1 Subwoofer and dual 2 tweeters
Bluetooth V4.1 Compatible Technology
Advanced Bluetooth 4.1 technology features faster & stable signal transmission, clearer sound quality and lower power consumption. The home speaker has a range of about 10m. It can also be connected to non-Bluetooth devices via the included 3.5mm audio cable and the speaker will shift to AUX mode.
Long-Lasting Play Time
With Proprietary rechargeable battery, one full charge lets you play music for up to 7 hours, 5-hour charge time for up to 7 straight hours use and when you at home, you can use the Hi-Fi speaker while charging the wireless speaker. Elegantly designed to be comfortable to carry or place as an ornament in the room, so a portable Bluetooth speaker is the best choice for enjoying music time.
Excellent Battery
With 5200mAh rechargeable battery, one full charge lets you play music for up to 7 straight hours, 3-hour charge for up to 7 straight hours and when you at home, you can listen indefinitely by keeping the unit while charging the wireless speaker.
Charge your Phone
Promate Concerto Bluetooth speaker is equipped with 5200mah large battery, which can provide energy for the speaker and charge the mobile phone so that you can enjoy the journey more comfortable. When the mobile phone is charging, it will not affect the normal use of the Bluetooth speaker.
Easy Music Navigation
Easy navigation through your playlist with the help of a soft-touch control panel.
Auxiliary Inputs
Aside from wireless connectivity, this loud Street Blaster is also equipped with 3.5mm Aux Input, USB slot that can support MP3 files, a radio system to connect to FM, and Jacks for Microphone or Guitar
Built-In Microphone for Hands-Free Calls
The Promate Concerto built-in microphone makes it easy to take calls hands-free or in a group. You can easily switch between playing audio and receiving calls with the multifunction button. The internal microphone is compatible with Bluetooth enabled phones, Facetime, Skype and other applications - making it a perfect item for office conference calling or family Skype chats.